Registration number PB-000310
Make your reservation
Welcome
You are invited to visit our small , enchanting village -SAMALUS- located next to NATURAL PARK OF MONTSENY a UNESCO BIOSPHERA RESERVE, lies 3 km from La Garriga, You will find it relaxing, tranquil, with pastures, sheep plenty of birds and all the smells, sensations of a rural setting. A perfect spot to get away from it all! It has a Romanic Church and dates from Iberic times with remains of an ancient town.
The rental property is adjacent to the principal house ( Masia) which dates from the XVII century. Beautiful tranquil location in a complex, with swimming pool, surrounded by forest Located at 30 min of the sea and 40 km from Barcelona The house is handicapped accessible, also available with prior notification a roomy taxi. We are accredited by SICTED SYSTEM OF QUALITY, the Catalan Chamber Commerce and official Organism.
Have an enjoyable stay.
News and offers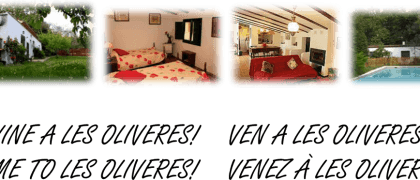 Pensant en la gent gran jubilada, enguany tenim un forfait de dilluns a divendres matí 4 persones ( o una parella si es prefereix) a www.lesoliveres.cat. Un regal de benvinguda d'una ampolla de vi i oli de la propietat. Casa totalment equipada Oferta des de Gener a Març Forfait especial para gente mayor jubilada de lunes […]